USB Crystal Light Himalayan Salt LED Lamp
Regular price

Sale price

$ 896.31
 When the crystal salt lamp is warmed, negative ions are released, absorb moisture, and neutralized the superfluous  positive ions in the air. The heated salt lamp can be regarded as a natural ion generator.
       Crystal salt lamps can purify the air and remove smoke and  foul smell from the air;
       Absorbs and removes dust mites, pollen, micro-spore, and germs in the air. Can adjust allergies, asthma and other commonly children's diseases, while regulating the immune system. It can naturally adjust and suppress high-frequency electromagnetic waves generated by electrical appliances.
Features: 
Using a natural crystal salt ore. After the salt lamp is lit, a large amount of negative ions can be quickly released through heating, which can effectively improve the air quality and purify the air. 
Salt crystal unique natural orange pink light can help relieve stress and relieve fatigue. 
Specifications: 
Power supply: USB input 
Material: ABS+PC+ Electronic Components 
Rated voltage: DC5V 
Size: 94 X 94 X 141 mm/3.7 X 3.7 X 5.55 in 
Working current: 100-600mA 
Power cable length: 1.2 m 
Rated power: 3W 
Function: Night light, ambient light, negative Ion Lamp 
This lamp with 5 color changing,you can let it change color constanly,or make it stay at one color.
Instructions for use: 
1. Touch the key to turn on the warm light, long press the key to adjust the light brightness. 
2. Double-touch the key, color gradient. 
3. Three times touch switch, fixed light color. 
4. Four times to touch the switch, shut down. 
Package:
1 salt lamp
1 USB cable
1   specification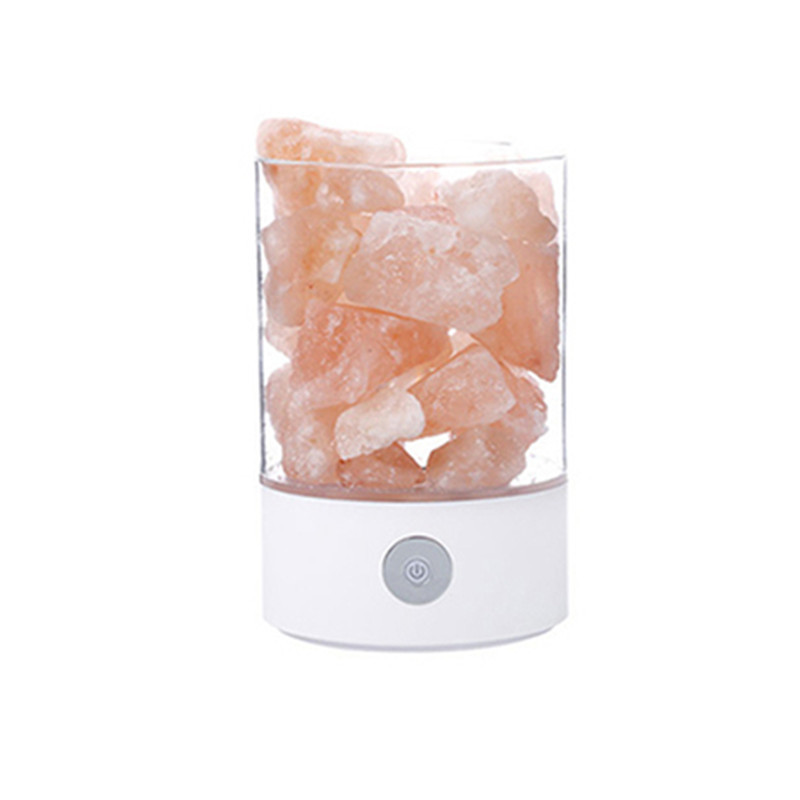 Compartir